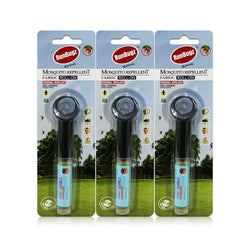 runbugz.com
Runbugz Mosquito Repellent Fabric Roll-on (Pack of 3)
Mosquito Repellent Fabric Roll-on

RunBugz Mosquito Repellent Fabric Roll On helps in repelling mosquitoes for upto 24 hours. It is made using 100% natural plant based ingredients and are chemical & DEET free and completely non-toxic.

They are suitable for infants, babies, children and adults. The roll on is great for parents who would not like to apply the repellents onto the baby's skin. Apply RunBugz Fabric Roll-on on your child's clothes before he or she goes to school. You can also hook it on to their school bag so they can reapply it when necessary. 

Ingredients: Citronella Oil, Lemongrass Oil, Lavender Oil, IPA, eucalyptus oil, IPM, Neem Oil, Fragrance

Start protecting yourself and your loved ones from malaria, dengue and chikungunya spreading mosquitos. Click on the blue RunBugz link above the product name to see our entire range of mosquito repellent products.